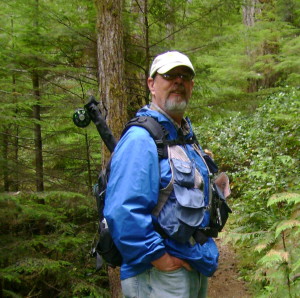 There is no hint from my distant past that would make me a fly fisherman. I never fished with my Dad and he only fished when he and a few pals made their annual trip to the Klamath River, far in Northern California, perhaps more drinking and male bonding than fishing. Once or twice I was taken by my neighbor, Bobby Scott's, dad to the Santa Monica pier to drop a baited line into the water and while away a Sunday afternoon. But fishing was not part of my life.
Neither was I an outdoorsman, save from the few experiences that I had in Cub Scouts, braving the wilds of what would have been a grove of trees adjacent to some park. With the exception of a few memorable evenings around a beach fire in Playa del Rey, or spread out on a blanket in Yosemite, my family never ate outdoors, cooked outdoors, or slept outdoors. I recall awakening on several front lawns when in high school, but passing out in a yard did not really count as sleeping under the stars.
Thus, it was a surprise to me when, in my late 20's, I bought a tent and a backpack and discovered the joys of being outside, of evening fires, misty mornings, and the taste of whatever was in the flask after a day of hiking. Over the years, my gear became remarkably lighter and more efficient and I became more proficient at most of the necessary skills that come with backpacking. At 30, I was lucky to land a teaching job at a school with an active camping program and it was not long until I was taking groups of teens into what passes for wilderness in the Sierra Nevada Mountains. It was not long before I discovered the delightful willingness of brook trout to take a fly in high mountain lakes. A student left a fly rod and a book of flies behind when he left the school and I began to take them along with me on our trips. Thus I skipped bait fishing entirely and went directly to fly fishing.
My actual introduction to casting a fly rod had come much earlier. From the age of about 11, we lived a block from Douglas Park in Santa Monica. Douglas had several great things going for it: two excellent tennis courts, an elaborate, fenced in, lawn-bowling pitch, where older folks dressed in cricket whites would very seriously practice their skills, a secluded little carp pond where I would later take dates for  potential romance, and a casting pond…perhaps the only one on the west side of a more famous one in Pasadena. There, on Wednesday summer nights, they would float multicolored rings on the pond and casters would line up to throw small weighted plugs out into the water. But some very few had more elaborate set ups. These were the fly fishers. Of course they took up more room at pondside, but their movements were sweeping and graceful and one fellow took the time to show me how to cast a line, rather than cast a weighted lure. It was another twenty years until that came in handy.
By the mid '80s, my buddy, Gary Bulla, and I got much more serious about the sport. We began to sneak away to any running water within 50 miles of our homes, exploring the Sespe Creek, Piru Creek, making runs up to the rivers of the Eastern Sierras: the Santa Ynez , Hot Creek, Bishop Creek, the Owens, and the East Walker. By the late '80s, my marriage had begun to unravel and I found that time on a river was more healing and renewing than any amount of therapy. Thus, by the early '90s, as my kids became able (I thought) to care for themselves, I would steal away to the rivers of Montana, Wyoming, Idaho, Colorado, and New Mexico to both calm my mind and take stock of my life.
For years I satisfied myself with running a small school, raising a son and a daughter as best I could. When both of my kids left home and headed off to college (They had lived with me full-time for some years) I escaped the very empty house for a long road trip through many of the rivers of the West. My rhythm was to arrive at a river, pitch camp and make a late day meal, and then fish until half-past dark, crawl into my bag to rise and fish in the morning, pack up and drive to the next river and repeat the process. This was settling for me in a way that I can't fully explain. Like the river, I felt my life floating past, yet I waded in the present, slowly leaving a marriage and even daily fathering behind and emerging into myself as a single person in the world…a kind of "uncoupling".  Jim Harrison wrote "One day standing in a river with my flyrod, I'll have the courage to admit my life to myself."…and this is in fact what happened.
Thus, in 1997, when I first came to know the love of my life, it was only natural to take her fishing. While she later tempered my regard for her adventurist spirit by admitting that she had researched bus stations along the route for a quick escape home, we managed to camp and fish our way through Northern California, into Oregon, making it back with our relationship intact. In fact, there was a moment that was a turning point, at least for me. We were camped along the McCloud River and I had left her by the camp to work my way upstream, catching beautiful cutthroat trout in pool after pool. Of course, each pool was more enticing than the last, until I finally came upon a long, deep run of water with a steep cliff along one side and fish rising in the late day light. I spotted a rough trail up the side of the hill and judged that I had a few minutes 'til dark to explore the pool and then I could clamber out and find my way back to the tent. By the time I got my few casts in and brought a couple more trout to hand, there was precious little light left and I began the climb up the cliff. Well, the simple trail that I thought was accessible was probably used for more fishermen sliding down than any going up. Thirty feet off the water, I had my flyrod in my teeth and I was grasping at whatever presented itself to keep from plummeting backwards into a cold, deep pool. In a few minutes and a couple of near disasters, I bellied up to a horizontal dirt path, gathered what was left of my exhausted wits, and began the walk back to camp. Where only a year ago, I would have crawled into my bag, perhaps eaten a granola bar and taken a pull from a flask, I came out of the bushes to find a campfire going, a dinner made, a bottle of wine open, and a beautiful woman sitting by the fire. I thought "Gee, I could do this". I even had someone to whom I could relate my adventures. And thus flyfishing not only gave me peace from a life I had lost, it gave me hope for one that I had found.
Since that time, Meredy and I have fished rivers together. She has her own waders, boots, and has claimed my 4 weight Orvis as her own. She has a graceful casting form and is patient on the stream, as she is with me, content to fish as much as catch. It was a few years later that I wrote this poem for her:
There is a river that flows out of the wilderness
Cut deep through rock cliff
Graveled broadly from the shore
And I long to stand in it
To wade and cast my line and know that my life is complete
Cast in the comfort of the loves that I have known
In those who have loved me
In my many blessings
Glancing quickly at the water to see my own reflection
Dancing there in the stream
Drifting into deep pools
Feeling the water rushing past
And knowing
That I am complete
That this mystery was never meant to be solved
That this hour is a blessing, as is every hour
And this river is but one of many
For which I must be grateful.
To know that my solitude
Is nothing more than an illusion
To feel my heart
At once both full and empty
To hear a soft splash
And, looking up,
To see you there
Just upstream
Holding my gaze
With your smile.