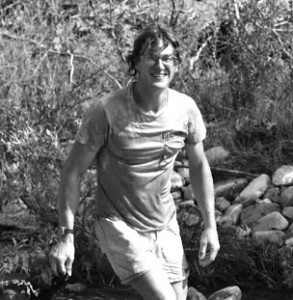 We rummaged through our closet, trying to find those pictures of Dave. They were taken before our reach into the digital world, when we stuck things in albums, not folders. We remembered the walk, the climb, the rope swing. We remembered his kind interest in us, that he stopped his life because we were on the island. There was the shot of him on the path, the one that we still have not found. He was walking with Meredy. They were deep in conversation and I was lagging behind. There were several families on the beach that he wanted vacant. Then we strode quickly up the semi-steep trail to the rope swing and the view.
We carried him to work with us on Friday, each of us quietly in our grief as we returned calls and sat through meetings and adjudicated what we knew to be trivial to what we held in our hearts: Karen, Ellen, Grant , Laughlin, our absent friend.
On Friday night we dined with some friends. We got drunker than is fair to hosts and got up and danced in sweetness and sadness because maybe it was better than conversation. Then on Saturday we went down to Santa Monica to celebrate Eileen's birthday. Eileen, who is still alive and is 59, which Dave will not see.  Another dinner. More wine. Morning coffee over the LA Times crossword and people jogging past the window every minute…really every minute. Somehow, at breakfast, we spoke of the Self-Realization Fellowship, the Lake Shrine on Sunset and the PCH, dedicated by the teacher Paramahansa Yogananda;  a place which Meredy had never seen. The SRF had been a special place to me as a teen. I found it on a long walk at 14, about ten miles from my home, and revisited often when I finally had wheels under me. I would sit on a bench by the water and wonder my yet to be lived life. There were lots of people there, most better-dressed than we. A volunteer informed us that we were just in time for the Sunday Meditation Service, including the Dharma talk: How To Be Happy At Will…which seemed like a good idea to us. So we ascended the stairs and more stairs and still more, until we were in the meditation room with a bunch of very blissed-out LA folks who looked like they all jogged past our window just a few hours ago. After the invitation to shut off our cell phones, we were invited to heal the world by holding someone in our hearts. And we did. For an hour we sat in meditation, listened to the dharma talk (basically Be Here Now and What Lesson Is Life Teaching You Now?) and then we walked around the lake, sat on a bench and watched swans and ducks and huge carp and turtles.
"So, who did you heal?"
"Same as you….Karen and the kids."
We came home to Tim Teague's sweet photo essay of Dave, which made us cry some more, but laugh too. We got a message from Brian Brophy who said that the stupidest thing he ever did was to try to boogie board the full-flow Ventura River w/ Dave. We found the shot of Dave swinging on the rope…a big floppy hat on his head. He is just hanging there, suspended over the Sound, suspended now in our hearts…always.