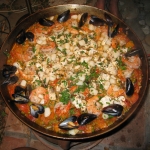 Cooking existed as a mystery to me until I was fully an adult. As a growing boy, I was never asked, nor did I show the mildest interest in learning to cook. As far as I knew, my father did not cook either(nor did any uncle or grandfather)  and the lot of us thought it was pretty entertaining the very few times that Dad made scrambled eggs…his specialty and pretty much only culinary effort. He was also not a BBQ sort of guy, though he must have done it once or twice. As I grew up, food magically appeared on the table, breakfast, lunch and dinner. Women reigned in the kitchen. Of course, being both Irish and of modest means, our menu variation was minimal. My grandfather, Finbar McGrath, refused to sit at the dinner table unless the meal included potatoes. Our vegetable spectrum consisted of green beans,  beans, peas, corn, and carrots…all boiled. I was at least an adult before I tasted an artichoke, an avocado, asparagus, any lettuce other than iceberg, or any cheese but American and perhaps Kraft Parmesan.
I was so ignorant of food prep that once, in a baby-sitting job, I was told to chop up carrots and serve them with a little butter. I did not learn til the next time I came that she assumed I knew to cook them first. I did have a brief gig in a hot dog stand, but that entailed fishing the dogs out of the cooker and placing them in a steamed bun. As a bus boy and a waiter, I never got close to the preparation of the food and only associated cooking with lots of smoke, swearing, and crude comments to waitresses.
It was not until I was out of the service and living a pauper's life in Hawaii that a Korean roommate taught me to cook rice. We would buy huge bags of it and the rice would be the staple of any meal. With this discovery I learned that I could eat for well-under 50 cents a day. Break an egg in rice and you have breakfast, add tofu for lunch, chop a few veggies and it is dinnertime. Needless to say, I mastered the cooking of white rice…brown rice did not arrive on my plate til a few years later. As I went back to college, a typical dinner was white rice covered by a can of Dinty Moore stew or canned ravioli. On a very early date with my first wife, I invited her to dinner and served her rice, of course, covered with a juicy can of spaghetti-os…a carb salad all for under 20cents. She was polite enough not to chide me until much later.
Thus, as our relationship progressed, she did most of the cooking, though I did pursue the masculine mastery of the BBQ. It was not until the marriage ran its course and I found myself a bachelor father to two kids that I began to cook. Actually, I could have avoided it, as we had moved into a house at my school and the kitchen cranked out copious amounts of food three times a day, seven days. Yet it was important to me and I think to the kids that we sat down to dinner with each other each night. Thus I discovered pasta in every form. So much so that both kids had pretty much sworn off pasta by the time they left home.
By the time I met Meredy, I was fairly comfortable in the kitchen, as long as I had my Joy Of Cooking handy. In fact she claims that I wooed her by inviting her over for dinner (I made pesto pasta with olives and artichokes). But, evidently her first husband never so much as made a sandwich in many years of marriage, so to sit down to a prepared meal was a novel treat for her. Now this is a woman who made her own bread, her own granola, peanut butter, yogurt, and the spectrum of things that could be faked with tofu. But she had raised three kids with little help and she was pretty much ready for relief in the kitchen by the time I came along. For my part, I learned the magic of a soup wand, and had stretched beyond rice and pasta to work on my "pit-master" status on the grill. I expanded my rice technique to risotto and then expanded further to something we called "Paesotto"..a paella-like risotto cooked over an open flame in the yard. It was not long before I was going at full fledged paellas, cooked over a flame in the yard (guys like to cook and play with fire, so this was a natural.). Of course there were a few concerns expressed:  A) I tended to use every pan and utensil in the kitchen; B) the cooking process seemed always on the brink of disaster. But now I have learned a half-dozen different paella dishes, have become proficient at stuffing and cooking turkeys, taken my father's efforts at scrambled eggs to stunning new heights, and make dinner about 4 nights a week. Meredy is still a much better cook than I, but she is happy to save her efforts for company or when she is inspired by a good recipe…in other words, she cooks for enjoyment…one that she has earned. We have learned to make our own pasta together. She bakes wonderful loaves of bread (haven't tried that  yet) and is the absolute queen of leftovers. She can look in the fridge and make one delicious meal out of the remnants of out last three. On the other hand, I also make "de jevu" meals, but they are usually quite bizarre and not nearly as tasty as hers.
Amazingly, most of our kids like to cook and they are not only good, they are more adventurous than I am, turning out sausage rolls, and wan-tons and tasty oyster concoctions. At least they did not grow up thinking that men do not belong in the kitchen. Thus, holidays are a treat, with the only challenge being the coordination of who is in our small kitchen when.  Well, the other challenge is that we have a few omnivores, a couple of vegetarians, one vegan, one gluten-intolerant, a pescatarian, and a three year old that doesn't like spicy. Somehow we manage.
Yet I have come to like cooking. I like the chemistry of it. I like thinking about food combinations. I like looking at several similar recipes and combining them according to what we have and what I like. I enjoy cooking for friends and shopping for the evening meal. I am buddies with our butcher. I often wake in the morning thinking about what I will cook for dinner and when we go out, I will carefully dissect the ingredients of my meal so I might duplicate it at home…all symptoms of  a fogy-foodie. I don't fool myself that I am a great cook. I came late to the game and I am at best adequate. I have learned to (mostly) wash up as I go, cook meat the way that Meredy likes it, and make tasty banana or orange juice Mickey Mouse pancakes for Skye. I have copious recipes filed in my computer and a three-ringed notebook of printed favorites. I have discovered the world of soups and the importance of very sharp knives. And I owe it all to a Korean guy and a 50lb bag of rice.