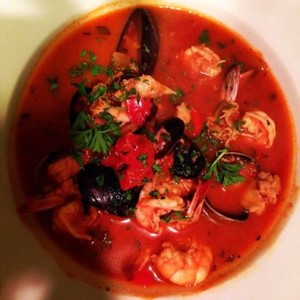 The onion was yellow and firm, but it sliced cleanly under the sharp knife. The garlic too diced easily and together they filled the house with a familiar aroma as they sizzled in the olive oil. (It was labeled "Extra Virgin", but he wondered.) Having harvested oregano, thyme, and basil from his own garden and having momentarily basked in that small pleasure, he chopped them lovingly and added them to the pan. "Paprika", he thought, the sweet, smoky kind…at least a teaspoon, and then the pepper, black, coarsely ground. And chili flakes, God yes, chili flakes, the ones they bought near Santa Fe…he had to restrain himself from just adding a tsp. He listened to Greg Page, Gregory Alan Isakov, and Eva Cassidy as he worked.
Bell peppers, red, green, yellow, chopped and left to simmer in the pan…an Anaheim chili joined them for good measure. Quickly now, a half cup of white wine, a Central Coast Chardonnay, if you must know, and soon it was time for the clams…a small can at first and then, what the hell, another along with two bottles of clam juice. At this point, he had to drink some of the wine, as long as it was open. A large can of diced Roma tomatoes and a small can of tomato paste settled into the mixture with some help from a large wooden spoon. He found a can of Bar Harbor crab meat in the pantry and a can of oysters too…the more the merrier. Two cups of seafood broth and two of chicken stock and the whole pot was left to simmer covered for the next twenty minutes. He would salt it later, if the seafood did not make it salty enough. He had learned not to salt til the end.
One guest is allergic to scallops, so this batch must be scallop free. He had shopped for a firm fish, perhaps monkfish, but this was not the season. Luckily, he got some fresh Mexican sea bass and diced it into cubes. The shrimp needed to be deveined and peeled, but he was patient with the process, knowing that the broth was reaching its potential on the stove. The fish, the shrimp, the bag of fresh mussels and the one of clams would not be added until a few minutes before the meal was served….perhaps a sprinkle of parsley at the end.
Friends arrived. Meredy made a salad. Bill brought homemade bread. Several bottles of good Chianti Classico Reserva were opened. The evening was warm for October, so they all sat outside, enjoying cioppino and friendship on a still Ojai night. They could hear the World Music concert at Libbey Bowl playing a mile distant. He thought of all the other cioppinos he had known, but this one was the best.