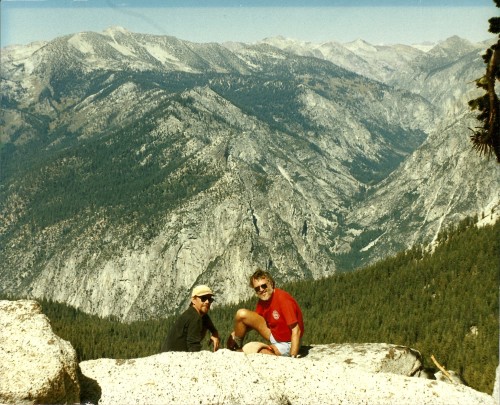 I was shut in an empty classroom with 3×5 cards color coded and spread across two tables. I was trying to create class schedules for the some 20 odd students that comprised The Happy Valley School in 1978. Dr. Lunt, the HVS Director, keyed into the room followed by a tall bearded fellow, a prospective teacher on a tour. Dr. Lunt was immediately called away and I was left to converse with Garland Lane Toler, a conversation that impacted and set the course for both of our lives for years to come. Somehow in the course of the next hour (who knows where the hell Dr. Lunt went) we discovered a mutual enthusiasm for teaching and for young adults, a common philosophy of optimistic pragmatism, and a shared love for tennis, guitars, literature, and a good laugh. Unhappy teaching in a small San Francisco college, Lane was looking for something new. The HVS salary was embarrassing. We had yet to construct a campus. The hours would be daunting and Lane would have to leave his wife and two daughters in the Bay area until he could afford to bring them down or perhaps until he could decide if this leap of faith would pan out. Still, he took the job and together we taught, counseled, crisis managed, supervised, cajoled and otherwise nurtured a school back into existence. The next year I became the director of the school and Lane remained at my side as teacher, dean, and trusted advisor for the ensuing 25 years.
I believed, and still do, that the secret of a good school is to put students in daily interaction with intelligent, moral, creative, and dedicated people. Of course I hired for subject expertise, but mostly I tried to hire for character. I reasoned that you could help a person learn to teach, but character was first and Lane was not only a character he had character in spades. Working with him as long as I did, I can write that Lane was without exception one of the kindest people I have ever known. There was no meanness about him and he brought that spirit into the school. When students struggled, he offered aid, an encouraging word, a hug, a joke, and perhaps some advice. It was a remarkable gift for a school to have a Dean of Students who was completely non-judgmental, who was capable of calling the toughest miscreant to task and having them feel better after leaving the office. I can't recall a single important decision that I did not first consult Lane Toler and his response was almost always to look at what was best for the students.
When the school went out on backpacking trips, which we did for over two dozen years, Lane was my pack partner and we came to mark the passage of time by seasons in the Sierras. At talent shows we usually performed together. Lane was a much more accomplished guitar player than I, but he always preferred to just accompany and perhaps throw in a solo. Having the bigger ego and less talent, I would be the front man. In between songs, Lane would tell a joke…usually something awful that made people groan. The louder the groan, the better he liked it. He was absolutely full of these jokes and seemed to bring a new one to school each day. One of his favorite aspects of teaching in a high school was that Lane could recycle his jokes every four years. Lane simply believed that laughter was good medicine and the best gift he could give was that of a smile.
Lane could also regularly kick my ass on the tennis court. I am a reasonable player, but for over 15 years I played a weekly match with Lane and it was well over the first two years before I took a set. After a while, either I got better or I just sensed when he was about to unleash one of his patented slimy drop shots or rocket forehands and the matches became pretty even, both of us knowing the others' game so well that each point usually ended with one of us splayed out on the court and both of us laughing. By far the best tennis I ever played was with Lane. Of course, he had been a public courts champ up in SF, but like all else, he did not brag about it. When we were troubled by some circumstance at school, it was always best to discuss it over a beer following a set of tennis.
Thus, together we helped to build a campus, to grow the school to nearly 100, and to survive good years and bad, through satisfying achievements and bitter disappointments, sweeping brushfires, washed out roads, High Sierra blizzards, heartbreaking expulsions, a burned dormitory, a lifetime of faculty meetings and, eventually, through the sad circumstances that led us both to walk away from the school that we loved. Together we gave each other a memorable journey. There is no aspect of it that I do not recall sharing with Lane, nothing that I achieved that I achieved alone.
On my 36th birthday (that's right, 36 years ago) Lane wrote to me:
Whenever
I have made a friend
(And, I think,  I have)
I've always thought: "Hey,
How many? How many
Do you make in a lifetime?"
In a life
Time goes slowly
Quickly
It is good
It is good
To have a friend.
…Right back at you, Lane, and thanks for more than could ever be mentioned.