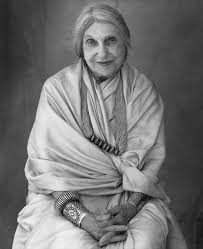 The artist, Beatrice Wood, died in March of 1998. She had just turned 105. For the last 20 years of her life she was my friend and I hers. From 1990-98 we were also next door neighbors. Her studio was about 100 feet up the hill from my bedroom and it was common for me to turn out the light around midnight only to see the glow of the light from Beato's studio. I was exhausted; my 100 year old neighbor was still working.
To be fair, she mostly liked to work at night as she could be undisturbed. Her mornings consisted of a leisurely bath, followed by a couple of hours of correspondence (she regularly wrote to the leaders of the world…and they would often respond). Her afternoons were generally full of visitors and admirers. In the late day she would nap and then get to work.
The motto of Happy Valley School, where we both lived,  was taken by Aldous Huxley from a self portrait that the Spanish artist, Goya, did in his 80s. At the bottom of the canvas he wrote "Aun Aprendo"…I am (still) learning. Of all I have known, Beato, went the furthest toward incorporating this motto into her life. She was a person who was alert and open to life. Not sitting down at the potter's wheel until she was well into her forties, she went on to become one of the best known and certainly best loved ceramists in the world…the "Mama of the Dadists". Besides having a devoted audience for her wonderful glazed bowls, her drawings, and her outrageous figures, she was dear to generations of Happy Valley students because she gave us each a glimpse of the life lived fully. Hers was a life without pretense; that possible life which may be led when we stop trying to please others and step strongly onto the path of our own making, of our own being in the world. She also refused to take life very seriously. She would chide me that I was lucky to not have had her as a student, as the word "No" was a green light for her.
The director, James Cameron recognized her rare beauty and strength when he made Beato the model for Old Rose, the aging beauty in Titanic. Yet this was not the first time she inspired a film. Her relationship with the artists Marcel Duchamp and Henri-Pierre Roche was the model for the novel and the Truffaut film, Jules and Jim. While she would regularly joke that she owed her longevity to chocolate and young men, this just reflected her devilish nature. My favorite Beato story is a time around 1980 when we were sitting around a dinner table in the presence of the mythologist Joseph Campbell and other luminaries. Beato had been rather quiet during the meal, so someone asked her, "Beato, what are your thoughts on Ronald Reagan?" She replied "I don't think much of him as a President, but he would not be bad for a weekend." I also recall sitting on her couch as she was introduced to a man who had spent many thousands collecting her work. She said that she was delighted to meet someone who was foolish enough to spend that kind of money on her art.
I have on my shelf a ceramic imprint of her hand which she gave me one Xmas. It is like that of a child…stunningly small. While she went through a phase earlier in life when she dressed like a gaucho, I only knew her to wear beautiful saris. I think of her now, draped in color with bracelets up her arms, handing chocolates out to the students who I would bring to her (as all admirers brought chocolate, she had an endless supply.) and advising them to never listen to me, or at least to question me at every opportunity. As I recall, for the most part, they usually took that advice to heart.