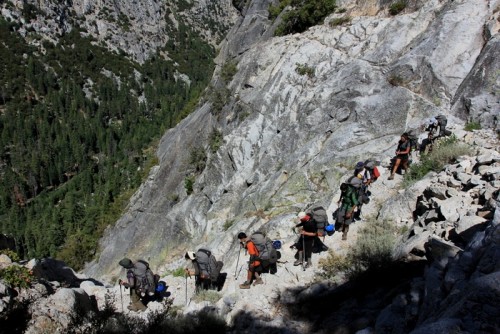 On the final morning of our trek, it was never a problem to get students up and going…as a matter of fact, the challenge was to keep the anxious from packing up and bolting out ahead of us. After some accidents early on, we finally learned to put the packers behind us as we wound down the Sphinx switchbacks to Bubb's Creek. Truly, this stretch was the only really dangerous part of the trip. Everyone is anxious to reunite with friends on other trips, to reach base camp showers, to eat other than backpacking food, and to simply walk without weight on one's back. Hence, there was a tendency to want o move faster than advisable down the trail. The trail down Sphinx Creek mostly resembles a granite stairway: steps of rock blasted from a sheer wall and stacked to form a miracle of a trail where none seemed possible. Besides the need to carefully watch one's step, the views of Kings Canyon are spectacular, so there is a constant tendency to look up. Thus, Sphinx Creek trail gave us a number of sprained ankles, a couple of bloody or wrenched knees, and a few tearful moments as some with fear of heights got a real glimpse of what a 3,000 foot descent was like.
The trail followed the wall beside the descending Sphinx Creek, turned to a rock staircase where the end of the line of hikers was directly above the front of the line, where we could easily see hikers from other trips, especially those returning from Kearsarge or Glenn Pass, as they strode down the Bubbs Creek trail below us.  (If anyone reading this has any pictures from that trail, please post them to me. I know there were many taken. In the one that I posted, the Bubbs Creek trail can be seen far below)
At Bubb's Creeks, we would settle in for lunch at an intersection campsite and greet hikers from other trips who would begin to relate their adventures. By this time, the trailhead was only five miles ahead and nearly impossible to miss…or so we thought…they eventually realized their mistake having walked a couple of unnecessary miles beyond our pick-up point. While the Bubb's Creek trail is pretty and offers beautiful views, one was anxious by then to get down to King's Canyon, so the last miles often seemed the longest of the trip. This is especially so because the last few miles are very heavily traveled by summer hikers, so the trail is flat, sandy and hard on blistered feet. This section of trail is forever etched in my memory for seeing a family hiking into the backcountry carrying coolers, folding chairs, an axe (not a hatchet) and enormous cheap slumber party sleeping bags. Leading the parade was a large man…perhaps 300 lbs, whose legs were actually bowed from his substantial load. They had him packed like a Calistoga wagon. He asked how far it was to Paradise Valley. It was painful to tell him that it was about eight steep miles ahead of him.
Approaching the trailhead at Zumwalt Meadows was always a bittersweet experience. While some even broke into a run to see the school bus waiting for them, many of us lingered, wishing to postpone stepping onto pavement and stepping back into civilization. As Director of the school, I also had an added trepidation, hoping that all had gone well on the other trips, that no one was injured or sick, no evacuations, no one was busted for some unseemly act (smoking pot and cohabitation of tents being always a possibility…sometimes simultaneously), and basically, that we brought them all back alive. It was always a tremendous relief to me to learn that the other trips had gone well, which they mostly had. The bus would ferry us back to our Cedar Grove base camp, where raucous reunions would take place and the stories would begin to unfold, usually continuing on for the remainder of the evening: moments of challenge, beauty, wonder, heroism, near tragedy, and hilarity. We were back. We were safe. We had done it.
In the early years, we would then troop down to the Kings River to bathe as best we could and don the clean clothes we had left in base camp. But by the mid-eighties, they began to leave the Cedar Grove showers open til October 15th, so sixty or eighty filthy hikers would line up to pay a couple of bucks each for a towel and a hot shower. These showers were a distinct pleasure, even though it would take another day or two of showers to actually feel clean. Even though they made lots of money from us, I would always slip the attendant some extra cash due to the inevitable mass we would make.
Dinner was usually massive burritos or pasta, cooked by the base campers. Each trip group was assigned to clean up, pack up the supply truck, cook breakfast in the morning, or such. By about 8pm, the exhaustion of the week would set in, but we had one more important event, closing council: about 100 people sitting on rocks and camp tables or just sprawled in each other's laps, sitting in the light of a massive campfire, passing a talking stick as each camper related a moment…just a single moment, reflection, epiphany, comic terror, true terror, or some deep appreciation from their week. It became a collage of the week, put together to form a sweet and powerful panorama of a week where hundreds of miles were walked, wildlife encountered, fears overcome, friendships cemented, and new and lasting appreciations were made. For the school, this was the beginning of the community which would forge its way through the coming school year. We had learned that we could depend upon each other, take risks, and embrace challenge, to fail or falter yet move on. At the end of the council, I would place the stick in the fire and people would slowly disperse to their sleeping bags. At this moment, I would feel exhaustion, satisfaction, relief, appreciation, and pride in that small school….such a range of emotions that even thinking back on them I cannot begin to find the words fully express. I have not even begun in these lines to scratch the surface here of Kings Canyon stories, of selfless acts, courage, kindness, camaraderie, personal achievements, and moments so funny that they are clearly recalled years later. I did not mention many people, as there would be no end of the mentioning, I did not begin to tell the incidents, as they are multitude. There are some who were introduced to backpacking and do it to this day and others who I am sure might never wish to do it again, but I would wager that there are very few who could honesty say that they are not glad for the experience, to think back these years later and, like I am doing now, quietly smile.