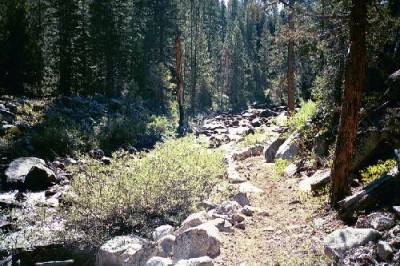 To reach the Roaring River, one must trudge up a rise that serves to take one's breath away. At the top, before we would ascend into the river gorge, we would get a good look at Avalanche Pass hovering across the valley…across and far above. This comes, of course, with a moment of doubt, as Avalanche looms above and our trail takes us down into the river gorge, losing all of that precious altitude that we would have to regain in a day or two. As I said, Roaring River is six miles from Sugarloaf, but the camp is at Scaffold Meadow, another mile up river. So, once one has made it down to the river, which really does not roar much in October, and then having a short break, the group must shoulder their packs for the last uphill mile. The trail follows the river next to small plunging pools and car sized rocks, giving truth to the notion that the river at least sometimes roars.  Just when the switchbacks seem discouraging, the trail flattens beside a stock fence that runs along a small meadow and, at the end of the meadow is the Roaring River ranger station. Now the Roaring River station is about as picturesque as a forest service cabin can get. My memory of its beauty is perhaps compromised by my first coming upon the cabin. Hiking alone out in front of the group, I came up to the cabin to find a very scantily dressed female ranger hanging her laundry on the line. She was as shocked to see me as I was to see her, as she later shared that I was the first human being she had seen in two weeks. Her name was Ranger Susie.  If there has ever been a prettier representative of the U.S government, I have never seen her. It turns out, as I got to know subsequent rangers, that Susie was a bit of a legend in the Forest Service, eventually marrying some lucky other ranger and was last heard of posted to the Everglades.
Susie was followed by Ranger Mike Williams who endeared himself to us in another way. Mike rode into our Roaring River camp one evening and presented us with a candy wrapper and a sock which had been left at our Sugarloaf camp. He said that he would have to cite us and ordered Lane and me to his cabin, where he meticulously filled out the proper paperwork, had us sign, and then broke out three cold beers. My God, those beers were good. It turned out that Mike was stationed there for the next 10-12 summers, when they finally moved him out just so he would not just consider the place his own. He kept a bookshelf of every good backcountry book ever written on the area. Three beers were always waiting.
 Scaffold Meadows sits at the base of two canyons, Cloud Canyon, which rises to Colby Pass (11,960) and Deadman Canyon, which leads to Elizabeth Pass (11,400). Deadman seemed to raise a lot of questions and concerns with our troops and we had a lot of fun over the years concocting stories of murder, mayhem and "the long missing perpetrator", the best being the year that Texas Chainsaw Massacre was the rage and we borrowed Mike's chainsaw to add a little spice to the evening. I will just say that a chainsaw attains a whole other quality of sound in the backcountry. The dead man, a sheepherder named Alfred Moliere, died alone of a burst appendix while his partner rode (to Fresno!) for help. Upon return, his pal buried him and carved a wooden plaque that still remains. Yet that was too tame of a tale, so it was annually embellished to make his partner a backwoods murderer who was never found, but still lurks somewhere in the canyon.
An additional and popular advantage to the Roaring River camp was a pit toilet, rigged by summer trail crews, which was perched up on the slope above the camp and offered a beautiful view up Deadman's Canyon and just enough privacy to enjoy it. After going in the woods for a few days, this small luxury, pooping seated, was appreciated by all.
At Happy Valley we practiced a communication ritual called council, so the night before we went over Avalanche Pass we would sit in a circle around the campfire to "lighten our load" for the next day. I would ask each member of the group to make their load lighter by leaving on this side of the pass some aspect of their childhood, some habit, some attitude, some remnant that they were ready to shed. Each camper would write their intent on a piece of paper, speak it to the group, and throw the paper in the fire. Into the fire went jealousy of siblings, smoking, failure to express love to parents, selfishness, laziness, and forgiveness. We would then turn in to rise in the morning at go at the pass. Such was Roaring River.